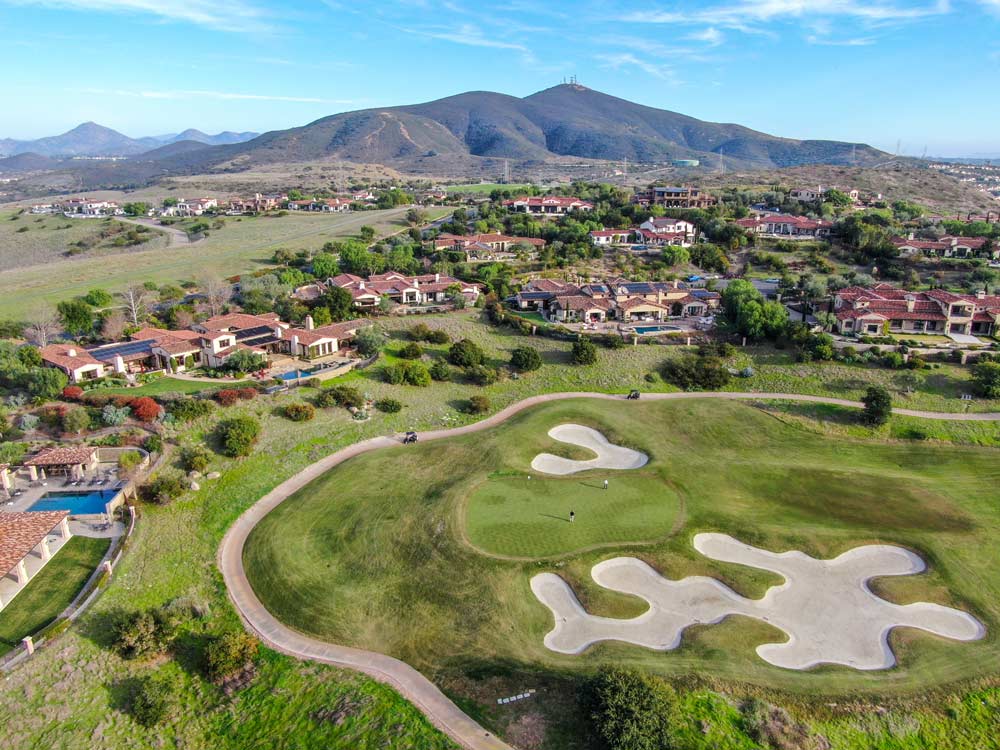 Whether you are considering purchasing a second home, or you are looking for the perfect location to settle down to enjoy your retirement years, golf course property is an ideal choice for a variety of reasons.
Living near a golf course is a dream for many, particularly golf enthusiasts who want to dedicate more of their time to their favourite sport, but it also boasts benefits that go far beyond the practical advantages of having golf facilities nearby.
Here's why golf course investment properties are booming  
Purchasing golf course property can provide strong return on investment, being a highly desirable type of property fit for different kinds of individuals, and with a strong rental appeal and great resale value.
Always high in demand due to their location and the perks they provide, properties with golfing views are estimated to be around 15-30% higher in value when compared to other properties.
What's more, quiet surroundings and stunning views make for a great first impression for visitors, who are welcomed by well-kept lawns and manicured gardens and hedges.
The quality of life you'll be able to enjoy will make any golf course property investment money well spent, giving you access to a healthier and exclusive lifestyle.
The added value of a golf course 
Nothing beats waking up in the morning to the smell of freshly mowed grass and gazing into a vast expanse of immaculate greenery, away from the noise and chaos of city living.
Given the well-known physical and mental benefits of spending time outdoors surrounded by nature, residing in a golf course property will naturally contribute to your wellbeing, providing a picturesque location for long walks and outdoor activities.
Most golf course property will allow you to join a vibrant community of fellow golfers, giving you the opportunity to meet and spend time with like-minded individuals by becoming a member of private clubs and participating in friendly or more competitive games.
For those who are passionate about the sport or want to learn how to play, living near a golf course will provide the chance to practice as often as they'd like, as well as potentially giving them the opportunity to participate in exclusive tournaments or to simply spectate. 
Are golf courses private property?  
While not all golf courses are private property, most tend to be part of gated communities, meaning facilities are only available to those residing within these communities and are only occasionally open to the public.
This makes most golf course property private and secluded, offering an excellent place for those looking to put down roots in a relaxing and secure environment.   
What are the disadvantages of living on a golf course? 
Weighing up pros and cons before purchasing a property is an important step and considering every aspect of the location where you'll be making your investment is essential.
A golf course has the potential of being an occasionally noisy environment, specifically when individuals gather for tournaments.
However, tournaments and special events are unlikely to take place frequently and might even give you a welcome – and exciting – break from your routine.
Similarly, any lack of privacy deriving from crowds coming together for a special event would be temporary, and as golf is a daytime game, you are sure to be able to return to enjoying a quiet and peaceful atmosphere in the evening.  
Property for sale in Spain on golf courses 
Sunny Spain is an ideal location to enjoy all the perks golf course property can offer, with its warm climate perfectly complementing the nature-related benefits.
And golf course property located in private resorts provides a plethora of other advantages, too. Mar Menor Golf Resort in the Murcia region is an ideal setting to enjoy life near a golf course, being situated near a magnificent par 72, 18-hole golf course.
This Jack Nicklaus-designed golf course is the most popular in the region, and presents unique features, entertaining and challenging even the most expert golfers.
There are a variety of villas with golf views currently available for sale at the resort, each just a short stroll away from convenient amenities and incredible restaurants.
Also located in this stunning gated community are golf course apartments, which include gorgeous penthouses perfect for admiring the beauty of this world-famous golf course from above.
With a wealth of experience in matching individuals to their dream property, the team at Andrew Brown can confidently guide you through the process of purchasing your ideal golf course property.
Get in touch today to discuss your needs.