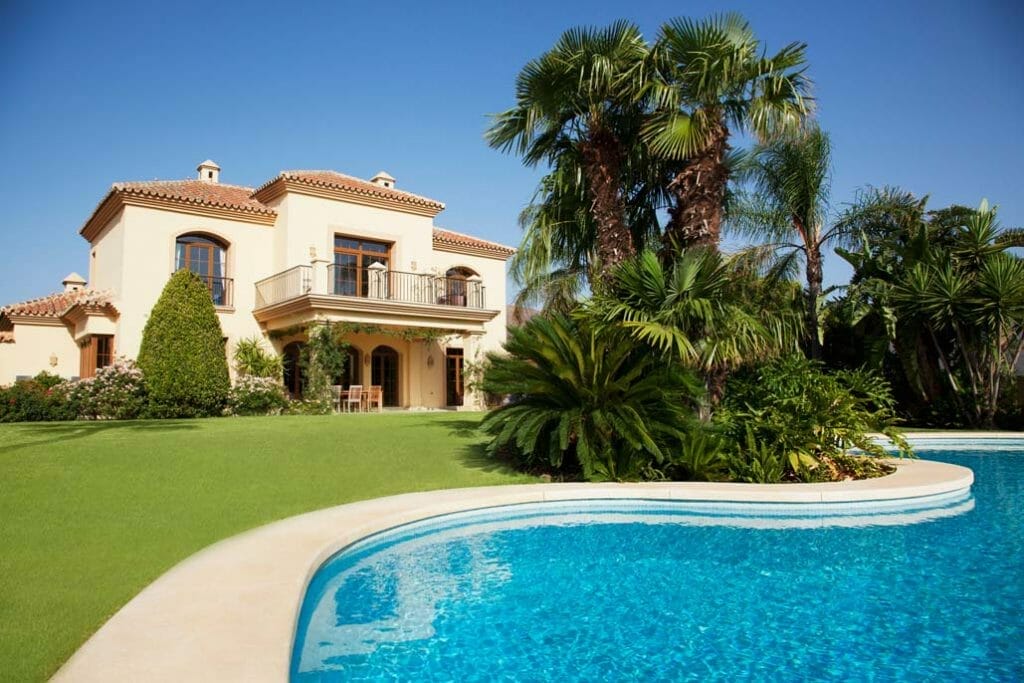 If you have recently decided to invest in a stunning new villa in Spain, you may have already begun to fantasise about how to turn it into the home of your dreams with the perfect décor.
No matter the type of villa you are considering purchasing, the possibilities are endless, and knowing more about the types of design and additions that would best fit each property might just help you make the best decisions for your new Spanish home.
Below, we'll explore the main characteristics of Spanish house design and provide some ideas on how to enhance your home's features with some great interior and exterior design tips.
What are the main features of Spanish architecture?  
Spanish buildings are renowned for being grandiose and awe-inspiring, with influences from a variety of architectural styles including Gothic, Renaissance and Baroque – amongst others – making them unique and attracting tourists from all over the world.
And when it comes to home design, Spanish villas are second to none, boasting a variety of highly desirable architectural features known all around the globe, many of which have their roots in the Spanish Colonial Revival Style.
For instance, homes in Spain tend to have white stucco exteriors and walls, as well as traditional red or orange terracotta tiles – so called 'tejas curvas', which can be found on the roof of most homes, giving them a touch of charm and homeliness.
One of the most common characteristics of both traditional and modern Spanish villas is their arches and columns, adding elegance and sophistication, as well as being practical, giving homeowners a convenient place to add shelves or other accessories.
Given Spain's warm climate, many Spanish villas come with large windows as well as stunning outdoor living spaces, giving residents the chance to enjoy the sun on beautiful patios, terraces, balconies and spacious gardens.
And thanks to the country's near constant sunshine, villas with pools are extremely popular, providing residents and guests with endless entertainment and the perfect way to beat the heat.
Decorating your exteriors
One of the advantages of owning a villa is that it's an independent structure, meaning you are less likely to have to comply with strict apartment or building regulations when it comes to décor.
To attain a picture-perfect villa, you should aim to decorate your exteriors to complement the type of villa you have and its existing features, as well as make the right decisions based on how much space you have available.
A villa's exterior design is arguably even more important than its interiors, given the large amount of time you're likely to spend outdoors when living in sunny Spain, so decorating it to perfection should be one of your priorities.
1. Making the most of green spaces
If your new villa has vast green spaces, as showcased by this breath-taking 4 bed 4 bath villa, elevating their natural beauty and incorporating even more greenery is a must.
For instance, building a small garden or simply planting some flowers is an ideal way to add colour and liveliness to your villa, also making a lasting impression on your guests.
To enhance your green spaces further, you should consider introducing some lighting. This could include lanterns, torches or ground lights, turning your garden into a truly magical space, especially at night.
Your garden can't be complete without a cosy corner to relax in, and adding a bench or hammock might just be what you need to fully enjoy outdoor living, allowing you to chill with a book in hand or simply bask in the Mediterranean sun.
2. Pool décor
If you've invested in a Spanish villa, you'll likely also have access to a fabulous pool area to entertain guests and spend countless days out in the sun.
And because a pool is likely to become the main attraction in your villa, drastically increasing its overall value – as is the case with this gorgeous pool villa – you should work on enhancing its appeal even further.
Every pool area needs pool loungers, the perfect place to soak up the sun after a relaxing swim, as well as complimentary tables or outdoor ottomans – an ideal extra touch to complete your design.
Lighting is essential both in and around the pool, with colourful and monochrome pool lights both being a great option to brighten up your pool area, allowing you to enjoy it even when the sun goes down.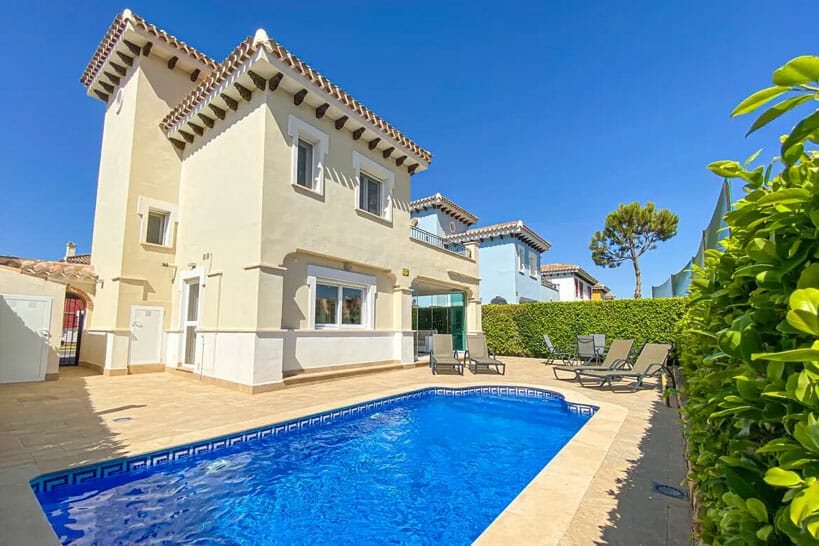 3. Terraces and patios
Terraces and patios are another common feature of Spanish villa designs, and this phenomenal 4 bed 3 bath villa perfectly showcases just how practical and charming these additions can be.
When it comes to these unique spaces, outdoor furniture is a must, providing a cosy place to sit and chat with friends or enjoy a refreshing drink or a meal with a view.
Having an umbrella – especially on your terrace – would help shield you from the sun during the warmest hours, whereas a burning outdoor firepit would be a great addition if you want to make use of your terrace at night or throughout the colder months.
Outdoor bar sets, grills and outdoor swings are other tasteful additions to consider in order to create an individual environment for your patio or terrace and impress your guests.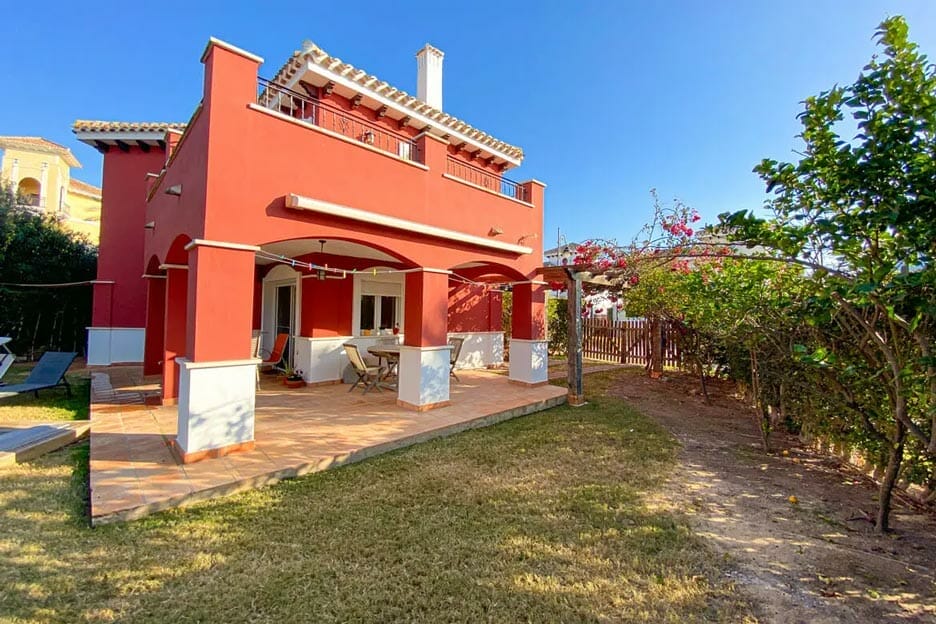 Interior design ideas
Though comfortable outside living is fundamental in a luxurious Spanish villa, decorating your interiors to perfection is just as important to create the home of your dreams, and ensuring your interiors complement your exteriors beautifully is a great place to start.
1. Interior design styles
First things first, you should consider planning ahead to establish what type of interior design your villa needs. Villas naturally exude luxury and opulence, and there are a variety of styles that can be adopted to elevate your interiors.
A highly favoured style, the transitional style involves an appealing fusion of the classic and the modern, with both elegant, traditional elements and more contemporary touches. The transitional style gives you a lot of freedom, allowing you to create a unique yet stylish and chic environment.
Equally as popular, the minimalist interior design is a great option for a villa, allowing you to achieve a pristine, uncluttered environment that celebrates simplicity, effortlessly elevating and highlighting any statement pieces or accessories.
The mid-century modern style, one of the most popular in 2022, will naturally give your villa character and encourage the outdoor-indoor connection. Using a variety of woods, colours and shapes, this trend is chic yet simple, and is most definitely here to stay.
2. Envisioning your villa's rooms
The way you plan to use each room should be dependent on how you plan to use your villa. If you will be working from your villa, for instance, a studio is essential, providing a private environment for you to focus without any distractions.
If you'll be living with your family, creating a family or drawing room dedicated to spending time together or enjoying shared activities is a great way to encourage bonding and communication.
Similarly, designing a room for one of your hobbies would offer a private space to fully enjoy your favourite activities. Any room could be turned into an indoor gym, a gaming or painting room, or even a room dedicated to displaying a specific collection.
Building individual areas within each room is another great way to add character to your villa: for instance, your living room could include an elegant seating area with a fireplace while also enclosing a reading nook complete with an indoor hammock, or even an indoor bar.
3. Furniture, accessories and details
From sofas to tables, rugs and fancy chandeliers, your furniture should reflect your lifestyle and the look you have envisioned for your villa, and even the smallest of changes can make a huge difference, so experimenting with furniture placement is a must.
Accessories and details can completely make or break a home's interior design, so it is worth contemplating what each room or furniture set needs to be complete – does your couch need cosy pillows or perhaps a stylish throw? Should you add a colourful painting or a charming potted plant?
From colour matching to finding the perfect location for every item, your home accessories should provide the perfect finishing touches to make you feel right at home.
Finding the villa of your dreams
Do you need help to find the perfect Spanish villa? Andrew Brown has a wealth of experience matching homebuyers with the property of their dreams.
With a stunning selection of villas in Mar Menor Golf Resort, an exceptional gated community that gives you access to a range of amenities, restaurants and an award-winning golf course in a perfect location, you are sure to find a Spanish villa that ticks all your boxes.
Get in touch today to find out more!