Jack Nicklaus is widely regarded as one of the greatest golfers of all time. Winner of over 117 professional tournaments, and a record-winning 18 major championships over 25 years, his invigorating greatness has certainly qualified him as a purveyor of quality-designed golf courses.
What are the top features of a Jack Nicklaus designed golf course?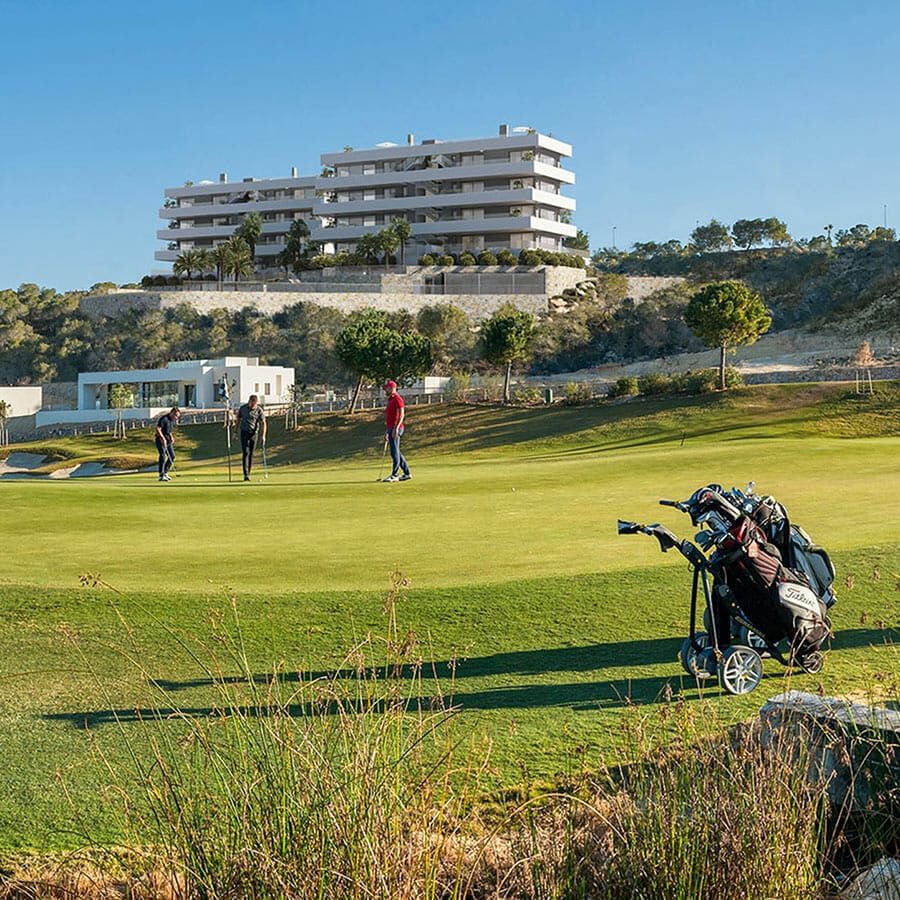 Jack Nicklaus' exemplary style consistently placed him among the longest and straightest hitters on the PGA Tour, and this style is ever-present in his course designs.
This is where his passion lies, and Jack Nicklaus-designed courses are undoubtedly among the best. As expected, the fairways are often long, wide, and precisely undulating to allow for a speedy delivery to elevated greens. Water hazards, indigenous trees, and plants help to set the par, and demanding bunkers amidst natural beauty make for an exhilarating round of golf.
Wherever he designs a golf course, Jack Nicklaus creates a masterpiece. For example, in 2009, he designed 12 of the courses in Golf Digest's "75 Best Golf Resorts in North America".
The top features of a Jack Nicklaus designed Golf Course may incorporate a necessity for numerous shots over prevailing obstructions, but the aspect of the challenge is part of Nicklaus' innate character, it's in his DNA, and this is what made him such a master tactician off the golf course.
He was renowned for his course management skills and planning for the optimal position with each shot, being the first player to consistently chart and document yardages on the course. And it's in the intricate planning of a golf course that enhances the measured demands of its design and makes for a truly special round of golf.
Jack Nicklaus designed golf resorts in Spain
The Nicklaus Golf Trail, in the Murcia region of Southern Spain, is the world's most concentrated collection of Jack Nicklaus designed courses in the world. Consisting of six first-class courses, the prestigious designs, perfect weather, and the spectacular Mediterranean scenery combine to provide an exhilarating game of golf.
The Gateway to the Nicklaus golf trail – Mar Menor Golf Club
Located near Torre-Pacheco, close to Alicante and Murcia-Corvera International airports, wonderful beaches, and the tourist town of Los Alcázeres, Mar Menor is the glorious gateway to the six, Nicklaus-designed courses.
A firm favourite with many golfers, Mar Menor is regarded as the most balanced in the region, regularly maintaining a prominent position in the top 100 golf courses in Spain.
The surrounding mountains influence the micro-climate that boasts Torre-Pacheco's 18°C yearly average and, situated on the northerly point of the Costa Cálida ("Warm Coast"), the golf course at Mar Menor sees less than 300 millimetres of rain a year, making the region a paradise for golfers, tourists, and those looking to maintain residence in the tranquillity of the Spanish sunshine.
The course at the magnificent Mar Menor Village Golf is in a privileged inner sea area of immense beauty and is operated by UGOLF, a leading European management company that maintains Spanish and French golf facilities as well as two others in the region of Murcia.
Indicative of a Jack Nicklaus designed course, the surface stretches a smooth 6,153 metres for a demanding par 72. There is a relaxing ambience from the start with an array of beautiful, multi-coloured villas overlooking the course and, as you would expect, it consists of wide courses with wide roughs, especially on the last 9, allowing for big strokes.
The toughest hole is from the 3rd tee, a par 4 with a stroke index of 1, with two immediate fairway bunkers to the left and a big lake short of the green.
The picturesque 4th tee is a relatively easy par 5, with play continuing towards the entrance of the hotel, just before a troublesome hidden lake, left of the green.
The play remains challenging midway through the last 9 as a spectacular lake, running down the right-hand side of the fairway on the 13th hole, maintains a constant threat for the next two holes.
Set within such beautiful surroundings with the most affable of climates, it's easy to see why golfers return time and time again to this formidable Jack Nicklaus designed course.
There's more to Mar Menor
For those seeking activities beyond the golf course, the resort is a conveniently placed base to boast a range of attractions for all ages.
Steeped in history, spring and autumnal temperatures lingering in the low 20s, sandy beaches with calm, shallow waters, a variety of fine Mediterranean and international cuisines, it's surprising to hear that this region, principally known as 'the garden of Spain', is one of the lesser known.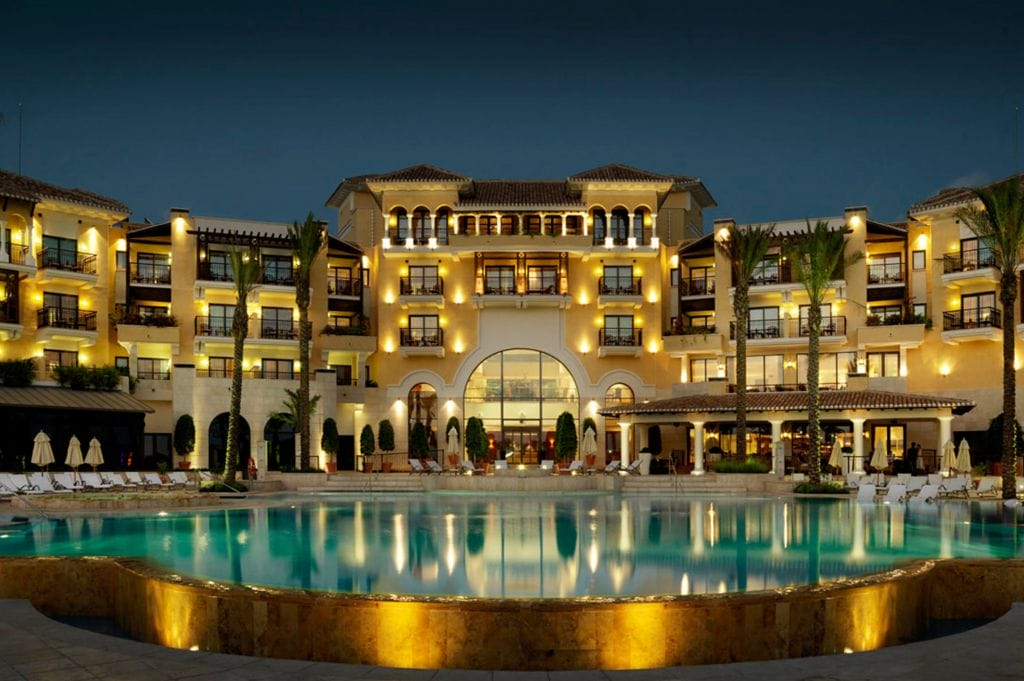 Historic Attractions
A 20-minute drive from Torre Pacheco is the historic city of Cartagena. Inhabited for over 23 millennia this maritime city was important during the time of the Muslim conquest from 711 to 718. Founded in 227 BC it was shaped and named Carthago Nova (New Carthage) during its Roman occupation.
As you would expect from an ancient city with a strategic Mediterranean position, it is awash with a collection of architectural splendour. Ruins from the Carthaginian period, Baroque, neo-classical, Art Nouveau, and eclectic designs have all been largely neglected by the eyes of mass tourism as the crowds have continued to flock to the more commercialised resorts.
The Cathedral Church of Saint Mary in Murcia, completed in 1465, is amongst the most aesthetically pleasing in the world. Next to the Giralda in Seville, it has the 2nd tallest bell tower in Spain, standing 11 metres shorter at 93 metres high. Its design is as equally impressive with a variety of styles. It demonstrates a particular artistic style with an inner gothic design and a dramatic baroque outer.
Food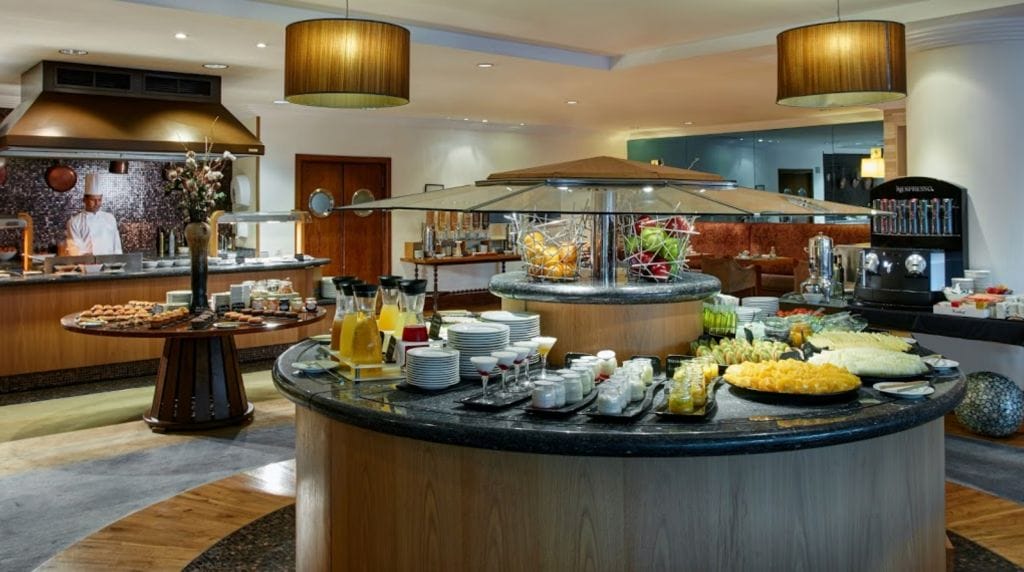 Murcia has a reputation as one of the largest producers of fruit and vegetables in the country and there is no shortage of ideas on the table. Mediterranean cuisine is at the heart of the Mar Menor region but that doesn't mean other cuisines have become an afterthought. As well as Italian and Asian restaurants, Indian restaurants have made great use of the local produce with many being amongst the best. In the summer months, the Mar Menor Golf resort even accommodates a Mexican restaurant for those looking to spice things up after a lazy day on the golf course.
The city of Murcia was awarded the title of Capital Española de la Gastronomia in 2020. It's a prestigious award, given each year by a panel of tourism and gastronomy experts. The event was cancelled last year due to the pandemic but those lucky enough to visit Murcia this year will find that the event will be extended throughout 2021.
Beaches
The beaches of Los Alcazares form part of Mar Menor. It's difficult to imagine that Mar Menor is actually a lake filled by the Mediterranean Sea and is the largest saltwater lagoon in Europe. The beaches are known for being sandy and the sea is famed for its warmth. The gently sloping shelves allow the water to warm affably with depths only waist high, up to 50 metres from the shoreline.
The thermal afternoon breeze and the calm seas provide the British Olympic sailing team with perfect winter training conditions and a safe environment for families to relax and swim. Some beaches are even protected by netting to exclude jellyfish.
One of the longest beaches that makes up part of the warm coast is Playa Los Narejos. It's a great place to learn sailing and windsurfing as it is used by CAR Infanta Cristina all year round. The shorter Playa de Las Palmeras beach is a kilometre long and one of the widest in the region at 30 metres, with a backdrop of gardens, a children's play area, and a 7-kilometre promenade that is alive with runners, walkers, cyclists, and those strolling between the selection of bars and restaurants.
The beaches are easily accessible, well catered for, with toilets, changing rooms, sunbeds, and wooden walkways. There is also a lifeguard and medical auxiliary service for added reassurance.
Across the trail
When looking to play the other courses in the trail, here is what to expect.
El Valle Golf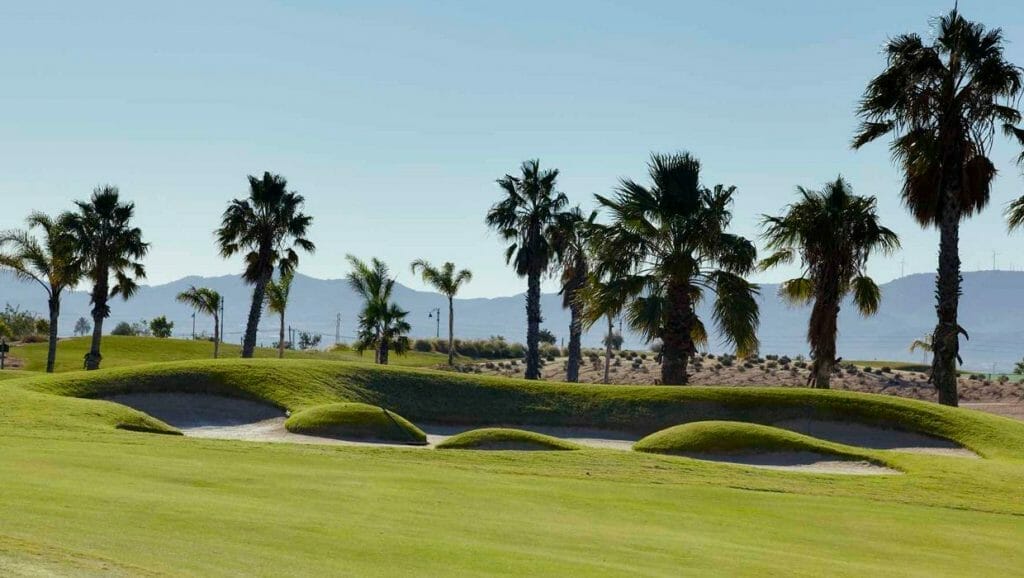 Slightly east of Mar Menor Golf Club is the striking landscape of El Valle Golf, in the town of San Javier. A little over 30 metres longer than Mar Menor, El Valle has a total length of 6185 metres and continues to impress golfers and non-playing visitors.
In its first 11 years of existence, the course has hosted some important championships, such as the Spanish National Championship of Professionals in 2009 and the European Senior Tour OKI in 2011, and is again indicative of Jack Nicklaus designed courses in that it demands a very strategic game, requiring a wide range of strokes to navigate this beautifully uneven land.
The 18-hole par 71 course is well-defined, consisting of smooth lifts and dips that contrast with a desert landscape between large towers of limestone.
Resembling something from a Spielberg movie, El Valle's lush, wide, open fairways are part of its four-dimensional character, full of 115 bunkers and 2 lakes that separate the 13th and 14th holes at the end of the course, and the final 2 holes that play up to the clubhouse. Good things come to
those who wait, and this awe-inspiring course calls for calm, calculated play to place the ball on the fairway to expedite a free shot to the green.
Hacienda Riquelme Golf Resort
Sitting between the foothills of the Sierra De Columbares mountain range and the Mediterranean Sea, the cleverly constructed 18-hole, par 72 links-style course of Hacienda Riquelme offers the same agreeable climate but presents very different challenges.
Similar to Mar Menor, the Jack Nicklaus designed course is great to look at and built to championship standards. Stretching 6356 metres long, Hacienda Riquelme is a difficult undulating course of wide fairways, a range of elevations, olive trees, and large lakes.
As we have come to expect with Jack Nicklaus designed courses, Nicklaus has made great use of the natural contours of the land and provided an exceptional golfing experience. The playing surface has been grassed with the famous Paspalum that has been specifically bred for golf courses and has been a focus for professionals to practice on since the beginning of the last decade.
La Torre Golf
La Torre Golf is an 18-hole, par 68-course full of large bunkers, three lakes, 6 par 3s close to water hazards, and challenging play throughout.
The short rounds offered by the La Torre Golf Resort make it appealing to both average and experienced players looking for stimulating play on a Jack Nicklaus designed golf course.
The course is relatively flat with only 2 par 5s making it easy to walk and ideal for all golfers, regardless of handicap.
Las Saurines de La Torre Golf (Formerly known as Terrazas de la Torre Golf).
Constructed in a desert style and, like Mar Menor Golf club, is operated by UGOLF and is rated as one of Spain's top courses with a notable position within the top 100 golf courses in Spain.
Located between Balsicas and Roldán, there is an air of quality about the layout of this par 68 Saurines course. Opened in 2011, it stretches to 6,473 metres long and is situated further inland
than Mar Menor. The design is often compared to the stylish desert courses of north Africa, comprising of four excellent par 5s that begin with an intimidating 1st tee that comes with the protection of water for 200 yards.
Las Saurines de La Torre Golf is often overlooked but still has a lot to offer, especially for those with lower handicaps. There is a raised green featured on the 15th which can prove tricky, and the fairways are routed around sizable lakes.
The course is still quite young and the optimism surrounding this course is that it is only likely to get better with age.
Alhama Signature Golf
The sixth and final course in the Nicklaus golf trail is again considered to be one of the best in Spain.
At 6,884 metres it is varied and the longest course on the trail. As we have highlighted in this feature of Jack Nicklaus designed golf courses, Nicklaus favours fast greens, wide fairways, water hazards and bunkers in his designs, and this is no exception.
American in style, its spectacular length accompanies 5 large lakes and 116 strategically placed bunkers. It meets all the standards you would expect from Jack Nicklaus himself with spectacular views of the Sierra Espuña throughout.
The course is a demanding par 72 with an exciting, peculiar shape that requires a great mastery of all the clubs. It's a beautiful course that combines desert with native flora and other indigenous species. The land has been perfectly crafted and there is no denying that this course poses a big challenge for professionals and amateurs alike. However, despite its challenging design, Nicklaus tells us that Alhama Signature Golf is a course that 'deserves to be played by all golf players'.
Golf resort villas for sale in Mar Menor, Spain
We'll finish where the trail began, at the Mar Menor Golf Club in Torre-Pacheco.
Jack Nicklaus said of his courses, "Every time I see one of my courses, I feel it is something that will last forever". And why not make the experience last forever with a uniquely designed property, interwoven around the course.
For those looking to buy a luxury forever-home, in the sun-drenched region of Murcia, and experience the region's vast history, its stunning scenery, bars, five-star restaurants, and spectacular Jack Nicklaus-designed golf courses, there is no better place to consider as your gateway to a golfer's paradise.
From the very beginning, everything is taken care of. We walk you through the process of securing your new home abroad in a safe, gated community with 24/7 security. No stone is unturned because we appreciate that peace of mind is beyond estimation. When considering the intricate details of buying a property abroad, our priority is furnishing the clarity and helping you to find a home that suits your needs.
We have many pristine, well-presented properties for sale, uniquely designed to accommodate all tastes and budgets. The resort caters to all needs to help you feel relaxed and at home in a spacious, family-friendly, secure community with an abundance of leisure activities and facilities on your doorstep. Why not talk to us about your plans.